Windows 10 Pro
Windows 10 is the best ever - familiar, easy to use, and packed with great new features for staying organized, having fun, and getting things done.
Product Features
What's in Windows 10 Pro
Windows 10 is Pro is familiar, easy to use, and packed with great new features for staying organized, being productive, and managing your business. It has everything that Windows 10 Home has, plus additional capabilities for encryption, remote log-in, creating virtual machines, and more.
Familiar and better than ever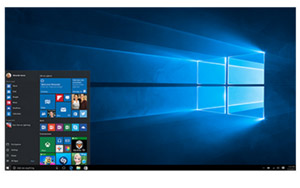 Feels familiar
Windows 10 is the familiar feel of Windows - only better. The Start menu is back and better than ever so you can expand and customize it.
Compatible
With Windows 10 you don't have to replace all your stuff.
Fast and responsive.
Technologies like InstantGo let you boot up and resume quickly. Your apps and the web run speedy-fast because the system balances the memory and processor resources efficiently.
More protection. Prompt updates.
Windows Update provides more than just security updates and patches. Now you get prompt updates to help you stay current with the latest Windows experience.
The most personal and natural experience
Cortana
Cortana is your truly personal digital assistant who learns about you over time, and works across all your Windows 10 devices to help you get things done.*
* Cortana available in select global markets at launch. Cortana experience may vary by region and device.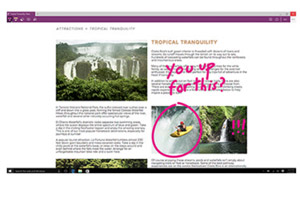 Voice, pen and gesture*
More natural ways of interacting so you can choose what's best for you.
* Hardware dependent
Start and Live tiles
At-a-glance view of everything that matter most.
Windows Hello
You know Windows, now Windows knows you.
*Windows Hello requires specialized hardware, including fingerprint reader, illuminated IR sensor or other biometric sensors.
Work across all of your devices
Gaming & Xbox
Enjoy the biggest Xbox franchises, get the best of Xbox Live*, and use the Xbox app to connect to your Xbox community, achievements, and game collection - all on your Windows 10 device.
*Broadband internet required for some features (IPS fees apply). Xbox Live features only available with supported games in Xbox Live-supported countries.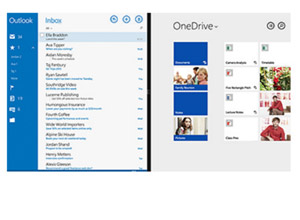 OneDrive*
Windows 10 comes with 15GB of free OneDrive storage. Keep your photos, files and docs in one place - you can reach your stuff anytime, from anywhere and from any device whether it's Windows or not.
*Internet connection required. ISP fees may apply.
Continuum
With Continuum, apps and content will display beautifully in all modes, on all devices, even as you transition from one to another.
First party apps
Windows 10 comes with great built-in apps too, like Maps, Photos, Mail & Calendar, Music, Video, People, and Messaging.
Be more productive
Microsoft Edge
Microsoft Edge is the all-new browser built to give you a better web experience, one that's made for easy reading, personal search recommendations, and effortless browsing.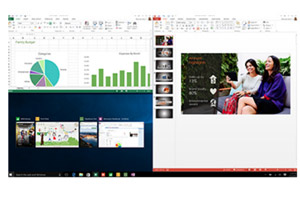 Get organized*
Snap up to four apps on the screen and create new desktops for more space.
*The number of applications that can be snapped will depend upon the minimum resolution for the application.
Runs Office
The world's greatest productivity suite, on the world's most productive operating system.
Store and Apps
Visit the new Windows Store, your one-stop shop for great games, apps, music, and video.
Right for business
Join your Domain.
You can connect to your business or school Domain or Azure Active Directory to use network files, servers, printers, and more.
Enhance encryption.
Get additional security with BitLocker* to help protect your data with encryption and security management.
*BitLocker requires Trusted Platform Module(TPM) 1.2, TPM 2.0, or a USB flash drive.
Virtual machines.*
Create and run virtual machines with Hyper-V so you can run more than one operating system at the same time on the same PC.
*Client Hyper-V requires a 64-bit system with second-level address translation(SLAT) capabilities and additional 2 GB of RAM.
Remote log-in.
Windows 10 enables you to log in with Remote Desktop to sign in and use your Pro PC while at home or on the road.*
*Internet connection required. ISP fees may apply.
Your apps in the Store.*
Windows 10 lets you create your own private app section in the Windows Store for convenient access to company applications.
*Internet connection required. ISP fees may apply.
Explore apps in the new Windows Store
Windows gives you access to the Windows Store, where you can check out customer favorites, browse apps collections, and get personalized recommendations.