PUSH YOUR SSD TO THE LIMIT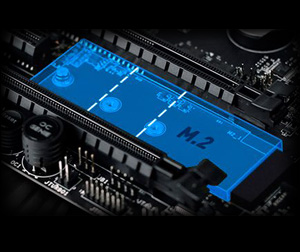 Enjoy a blazing fast system boot up and insanely fast loading of applications and games with selected MSI motherboards. We offer the next generation of high speed storage support through M.2 and SATA Express. M.2 and SATA Express transfer data through a PCI Express 2.0 x2 interface up to 10 Gb/s, making it 67% faster than SATA 3.0 solutions.
FASTER STORAGE SOLUTIONS WITH M.2
M.2 is the successor to mSATA, offering a 67% performance increase up to 10 Gb/s. M.2 is packed in a small form factor and is compatible with 3 different sizes to fit most storage solutions.
FLEXIBLE FAST STORAGE WITH SATA EXPRESS
SATA Express introduces a new solution in high speed storage through PCI Express, providing more bandwidth for the latest generation SSDs. We offer flexible solutions with a M.2 to SATA Express converter for more convenience.
OPTIMIZED FOR MULTIPLE GRAPHICS CARDS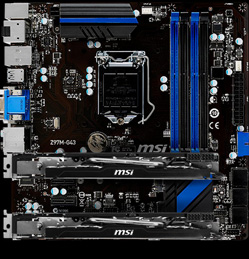 With a large number of PCI-Express 3.0 x16 slots for every MSI motherboard, you get to choose optimal placement for your graphics cards for better fitting and airflow up to Quad SLI/CF. That way, you can enjoy the best graphics at the highest framerate jumping off from your screen when running a NVIDIA® SLI™ or AMD CrossFire™ setup.
ECO POWER
ECO Power helps users to manage their hardware and power usage. Save up to 19% power consumption by completely disabling unnecessary hardware. ECO Power not only lowers the power consumption but also avoids short circuiting and signal noise.
CIRCUIT PROTECTION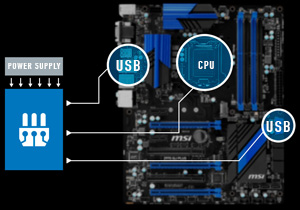 With specially designed circuit protection, the MSI motherboard protects the CPU against overheating and USB devices from short circuiting.
OC GENIE 4

SLI /CROSSFIRE SUPPORT
With the one-second overclocking option OC Genie we're giving you even more performance. Just hit the button and your PC gets another adrenalin shot straight away. Give your system an awesome performance boost with ease.
CLICK BIOS 4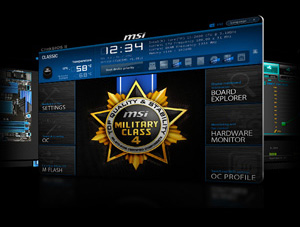 The MSI Click BIOS 4 is the latest UEFI BIOS with optimizations for Windows 8. Not only that it also reacts faster, runs smoother and has better mouse support. And this all comes with many cool features. Click on the button on the right to visit our dedicated BIOS page and learn more.
SMART UTILITIES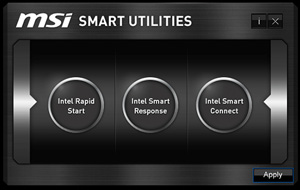 The MSI Smart Utilities application helps to easily setup, configure and boost your systems' performance and more through 3 Intel® key technologies:
Intel® Rapid Start
Intel® Smart Response*
Intel® Smart Connect
*This feature only works on platform/model that supports Intel® Smart Response technology.
FAST BOOT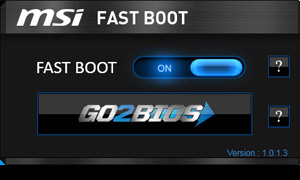 No more seamless waiting for your O/S to be loaded! MSI Fast Boot helps to make your system boot lightning fast. MSI Fast Boot also features a GO2BIOS button. Simply click it to restart your PC and go straight to the system BIOS.
4K UHD SUPPORT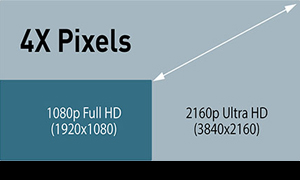 Enjoy awesome 4K UHD video playback with MSI 9 series motherboards. MSI motherboards that are equipped with HDMI port(s) support the latest 4K UHD (2160p ultra-high definition) resolution to provide an unprecedented breathtaking visual experience.
HDMI

Enjoy the awesome HD video playback now! MSI motherboards that equip with HDMI port(s) supports the latest and the most innovative signal outputs to provide an unprecedented visual experience.